Solutions: Advanced Malware Protection for Meraki MX
Cisco Advanced Malware Protection is the industry's leading malware protection solution. With a database of over 500 million known files and over 1.5 million new incoming file samples every day, AMP provides not only global threat protection but also extensive visibility during and after a malware attack.
The threat landscape is constantly evolving, and it's more important than ever to have a security solution that does more than just block malware. Security experts increasingly agree that deep visibility is crucial to maintaining effective network security.
With AMP, a world-class malware database is paired with context-aware monitoring and reporting, retrospective malware analysis, and Threat Grid sandboxing to provide an anti-malware solution that does more than just prevent users from downloading malware – it provides comprehensive security before, during, and after a malware attack.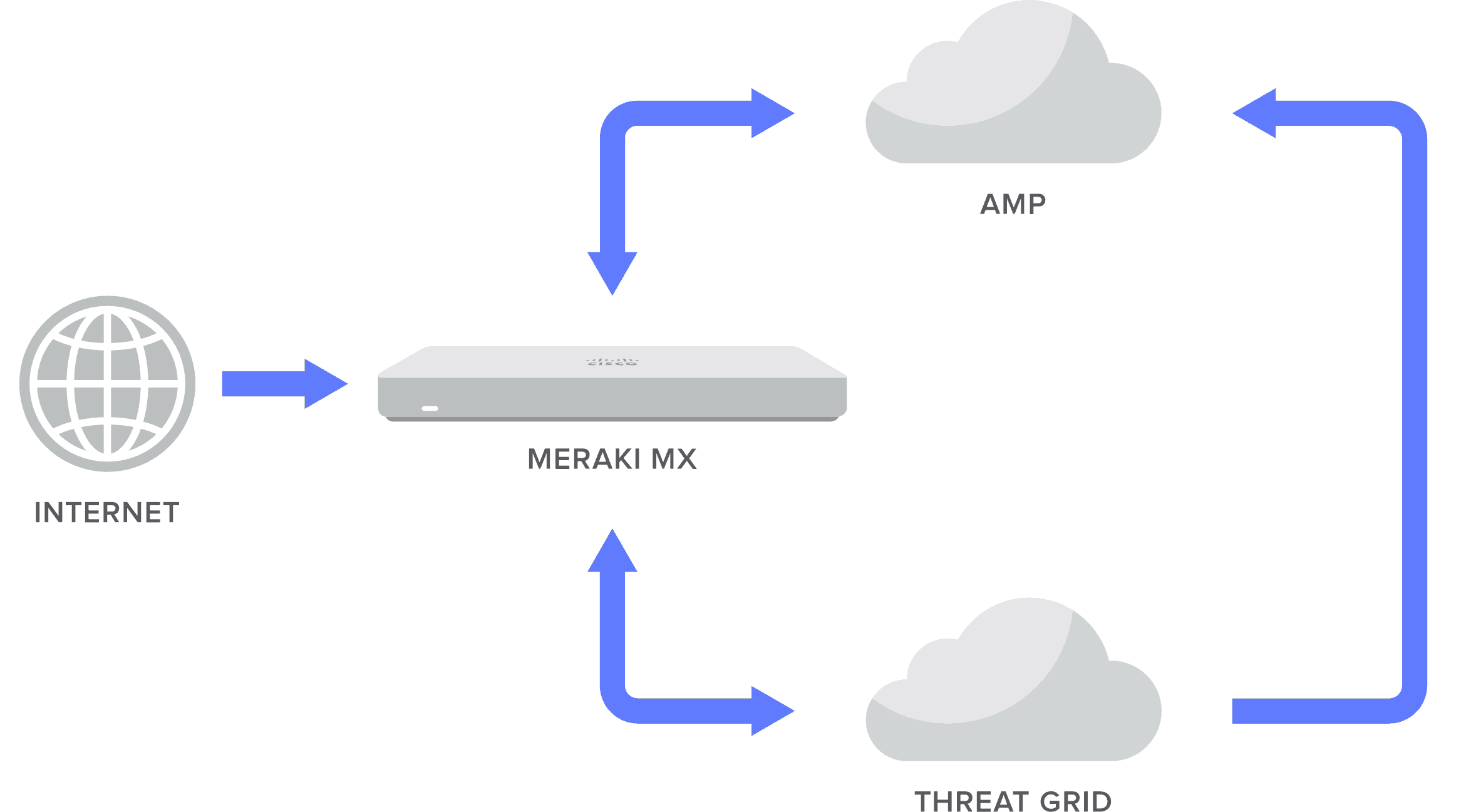 Best of all, integration into the Cisco Meraki cloud dashboard means it's incredibly easy for Meraki MX customers to configure and monitor AMP, or to move seamlessly back and forth between threat intelligence and network management.
Real-Time Malware Blocking
Automatically check downloaded files against the global AMP database in real time and block malicious files before they can pass through the network perimeter.
With the new Security Center you get a straightforward summary of threats seen across all of your networks or drill down into the details of a particular attack or threat.
Retrospective Malware Detection
By maintaining information about files even after they are downloaded, we can report on files that were determined to be malicious after they were downloaded.
We even send automatic email alerts informing you that a file downloaded previously on your network has been newly discovered to be malicious so that you can investigate and take action.
Threat Grid
Get unmatched protection against emerging threats by sending unknown files to Threat Grid to be executed in a virtual environment. Threat Grid matches actions taken by those files against over 825 behavioural indicators.
Even better, Threat Grid's findings are reported to the AMP cloud so that all AMP customers will be protected against newly discovered malware.