All your technology needs, at a managed cost, to free up your resources!
Managed services can include all or a tailored bundling of our IT services to suit your business in a one-stop shop. With a fast-paced and ever-changing IT industry, it makes more sense than ever before to use managed services.
Managed services enable you to fully or partially outsource your IT in a cost-effective and intelligent manner so you can grow your business without hiring new staff.
All services are performed in a proactive, transparent and cooperative manner and aim to satisfy and provide your business with absolute confidence.
Our Core Elements for an Effective Managed Service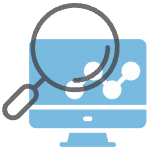 System Monitoring